Art Shows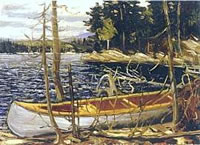 ManorHill Fine Art offers a Gift Certificate programme – a great way to give someone a unique and long-lasting gift without the worry of wondering whether the recipient will like it. The purchase of art is a very personal decision, and if you do not know the person's taste in art, you could easily miss the mark in your selection. So, take the guesswork out of the selection process and consider a Gift Certificate – for special occasions such as weddings, birthdays, retirements or anniversaries.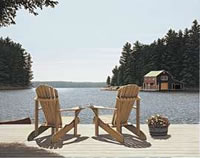 The Gift Certificate can be in any dollar amount you choose. Often a number of people go together on a Gift Certificate. We personalize the Gift Certificate with the recipient's name and it comes in an attractive 8.5" x 11" size.
And, should you know an individual's interests or taste in décor or artwork, you may be able to make a specific gift decision yourself with the help of one of our art consultants who can make some suggestions for you on popular choices that fit your requirements. We also offer an exchange on any piece of art that is chosen for a gift. Give us a call direct at 416-575-6790 to find out more.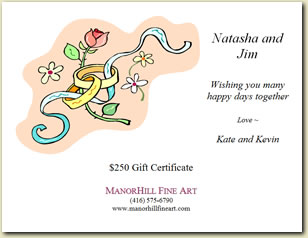 Sample Gift Certificate