About Our Gallery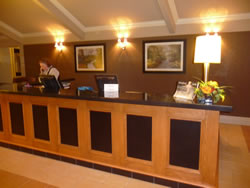 ManorHill Fine Art can act as a contractor for the provision of artwork services on large projects. Our company is experienced in recommending and sourcing artwork for retirement homes, nursing homes and hotels. Our creative staff works with decorators, designers, architectural firms, developers and ownership, as appropriate, to understand your artwork requirements. We will make suggestions in accordance with the wall décor effect that you wish to achieve.
ManorHill Fine Art offers special contract pricing for large jobs. We have a clear understanding of budget constraints and can suggest different presentation and framing options in order to provide great looking artwork that keeps within your project budget and puts a smile on the CFO's face.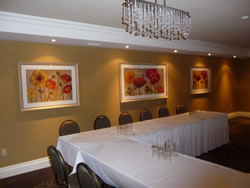 ManorHill Fine Art is a full service contractor. We work closely with the designated project individual to provide a needs assessment, creative ideas, a wall décor plan and sample artwork. We arrange production for all of the artwork in its stipulated framing treatments, deliver the product on site and provide a full installation service, if required – all subject to your approval, of course! And, we keep you updated on project progress, so that you don't have to chase us for information.
ManorHill Fine Art works to help you achieve the wall décor look that is compatible with the furnishings and décor colour scheme of your facility. Bright, bold colours, or understated muted tones - landscapes or abstracts … photography or originals … canvas, textured or under glass. Let us help you figure out the appropriate wall décor treatments for your project. You will be impressed with the quality of ManorHill Fine Art's product and personalized service.