A.Y. JACKSON
1882 - 1974

A.Y. Jackson is the man often regarded as the leading advocate for The Group of Seven. His travels across the country are legendary - he painted the Rocky Mountains, the Alberta foothills, and the Maritimes. Born in Montreal where he spent his early years, Jackson retained throughout his life an affinity for the Quebec landscape and its people.
Jackson first studied in Montreal and continued his art education in Paris, where he decided to become a professional painter. He struggled producing works in Quebec for several years, becoming increasingly discouraged with the Montreal art scene. While considering a move to the United states, Jackson received a letter that was to change the course of Canadian art. A Toronto based artist by the name of J.E.H. MacDonald wrote to Jackson on behalf of Lawren Harris enquiring about a painting he wanted to purchase. This letter and purchase provided the link between Jackson and the Toronto based artists. They continued correspondence and debate over the Canadian art situation, and soon Jackson began spending extended periods of time in Toronto, moving there in 1913.
With his sophisticated knowledge, Jackson must have opened up a whole new world for Tom Thomson when in 1914 the two artists shared space in the new Studio Building on Severn Street. Thomson in turn conveyed to Jackson his excitement about Ontario's north country. A.Y. Jackson was involved in all the major Group trips to Algonquin Park, Georgian Bay, Algoma and the North Shore. He was a rugged individual and some felt Jackson had a romantic need to prove himself by undergoing great hardships. He became great friends with Tom Thomson, and they spent much time outdoors fishing and sketching.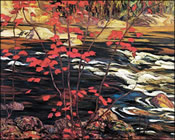 When the war came, Jackson was the only member to see action. After being wounded in 1917, Jackson became an official war artist, a post he held until 1919, when he returned to Toronto. There, despite the death of Thomson in 1917, the artists were once again working toward their goal of a truly Canadian art. From his base at the Studio Building which he did not leave until 1955, when he moved to Manotick near Ottawa - Jackson roamed Canadian backroads and remote terrain. Maples and Birches is characteristic of his mature style, with its emphasis on the undulating, receding hills of the landscape. Often in his work a road winds away from the viewer through a scattering of rural dwellings.
In 1927, accompanied by Dr. Frederick Banting, the codiscoverer of insulin, he explored the Arctic, a trip he repeated in 1930. Jackson's last visit to the Artcic was in 1965, when he was eighty-three. He returned many times to Quebec, particularly to Charlevoix County, east of Quebec City on the north shore of the St. Lawrence. Only once in thirty years did he miss travelling home to Quebec for Spring. This is really where his heart and best paintings were based.
Through his travels, his friendships with people all across the country, his teaching and lectures, and his belief in the possibility of a Canadian identity through its art, A.Y. Jackson came to symbolize Canadian art itself. His works and personality were immensely popular. He was direct and easy to understand, both in his painting and as a person. He was an outward looking artist, whose main concern was to record the landscape before him and reveal Canada to Canadians.
Sources: The National Gallery and 'The McMichael Collection'